Mexico's oil market is very good, which promotes the prevalence of plastic pyrolysis plant projects in Mexico. Since 2011, DOING has sold more than 100 pyrolysis recycling machines to Mexico to help local customers make considerable profits. And for new beginners who want to start a waste plastic to fuel oil pyrolysis plant, it's suggested to make preparations from the following three aspects: collect raw material, look for final products market, and buy suitable waste plastic pyrolysis recycling machine.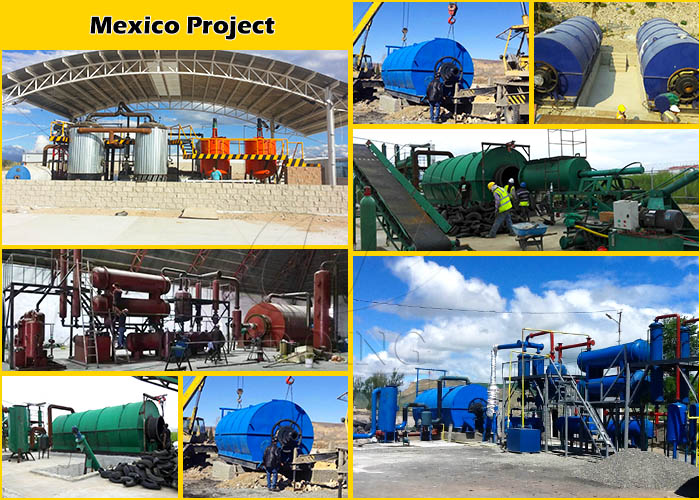 Some project cases in Mexcio
1.Collect raw material
The material resource is important, because if you want to make profit, you'd better run the machine constantly, so the stable material supplier is very important, you could find the supplier who provide the waste plastic specially or you could cooperate with local factory which produce the waste plastic every day, the good material is the PP, PS and PE, PET and PVC are not suitable for pyrolysis.
2.Look for final product market
Invertors can mainly get two kinds of final products from waste plastic to fuel oil pyrolysis plant, pyrolysis fuel oil and tail gas.
The pyrolysis oil is a kind of heavy oil, which is a kind of good heating fuel with 10592.48Kcal/kg heating. It has a good market in different countries, it is widely used in boiler factory, cement factory, steel factory, brick factory, glass factory, heavy oil power plant, warm supply center and so on. And the pyrolysis oil can also be refined into diesel by pyrolysis oil to diesel refinery plant; the tail gas (mixed light gas) can be used to heat the reactor directly to reduce the fuel consumption.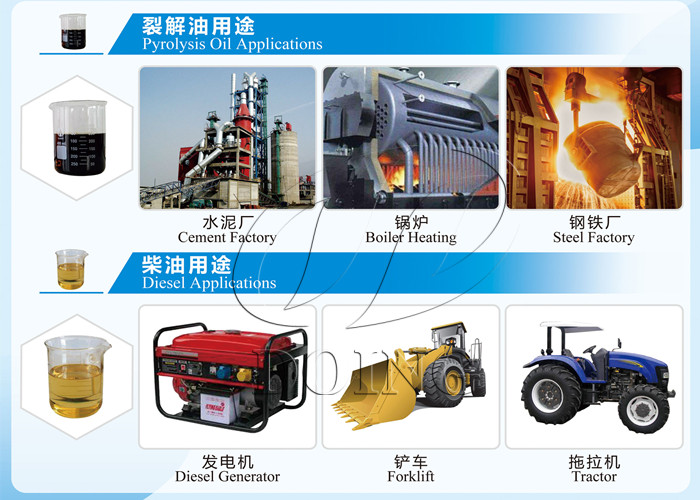 The application of pyrolysis oil
3.Buy suitable waste plastic pyrolysis recycling machine
If you want to maximize the profits of starting plastic pyrolysis plants, you need to buy suitable plastic pyrolysis recycling machine from professional manufacturers. The processing capacity, configurations, safety&environment protection performance of the plastic pyrolysis recycling machine should be paid attention to according to your detailed needs of plastic pyrolysis.
Doing Company can customize you the waste plastic pyrolysis recycling machine with the daily capacity from 100kg to 20T different processing capacity and the pyrolysis oil to diesel refinery plant, which could meet different customer's requirements. Just feel free to ask us if you have any question about our machine or this project, and free quote will be provided based on your needs!