Scrap Tyres to Oil Production Plant
Congratulations, you have found a profitable business opportunity when you view this page, and also you have got a fine supplier who can support you on this field.
Now, the pollution caused by waste tires, waste plastics, waste rubbers have become a more and more serious problem. Many governments of the countries are trying to deal with this thorny. How to deal with them? Now, DOING have found a good way-scrap tyres to oil production plant. The main principle of this scrap tyres to oil production plant is pyrolysis. Compared with traditional incineration and burial methods, it not only has no pollution problems, but also brings economic benefits.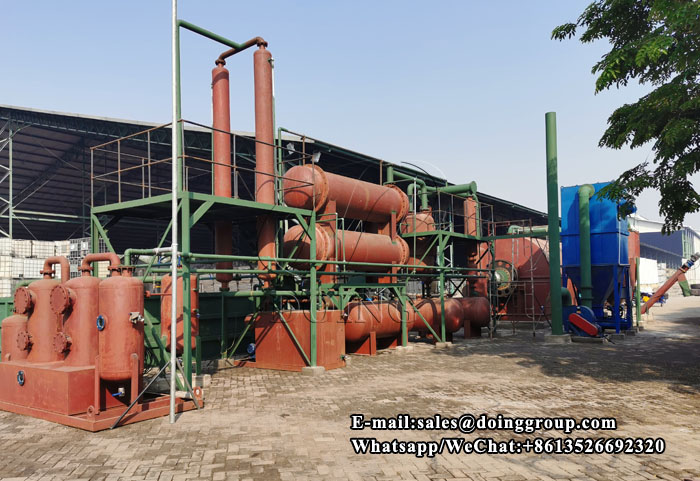 DOING scrap tyres to oil production plant
The principle introduction of scrap tyres to oil production plant
Pyrolysis is thermochemical decomposition of tyre polymer, since waste tyre are long chain polymers containing more than 50,000 carbon atoms. The process will require an initial fuel source of coal, wood or oil. Oil gas produced from waste tyre pyrolysis will flow into several successive condensers where the oil gas can be cooled into liquid oil.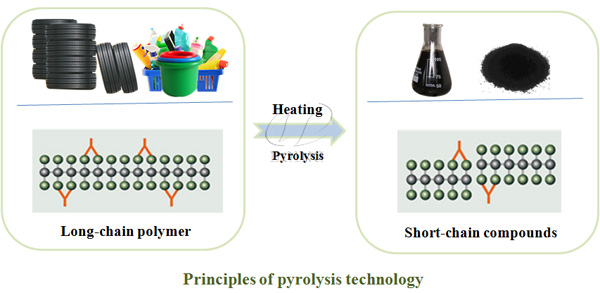 Principle of pyrolysis technology
Main working process of scrap tyres to oil production plant
First, put scrap tyres into furnace by the auto-feeder, then seal the feed inlet system.
Second, burn the fuel material(coal, or wood,or natural gas, oil ) in the combustion system. The reactor will be slowly heated. When the temperature reach around 250 degree celsius, scrap tyres will be pyrolyzed and produce oil gas.
Third, oil gas will go to cooling system to cold liquid oil. The gas which can not be liquid under normal pressure, which will be desinged to back to combustion system to instead the fuel material to burn the reactor, which can save energy very much.
Forth, after finished oil produce, the temperation of reacor will be down, in same time, carbon black will be discharged automatically.
Lastly, when the temperature fall to 100 degree celsius,worker could opened the door of reactor to discharge of steel wire, then start another batch.
Main working process of scrap tyres to oil production plant
Advantages of Doing Company
1. Rich experience: Scrap tyres to oil production plant had exported to more than 60 countries.
2. With ISO9001: 2020, CE Certificate.
3. Strict requirements for quality:
IQC: Incoming quality control, main raw material;
PQC: Process quality control, all the reactor is inspection by X-ray.
4. Running machine video available for customer visit.
DOING factory
Henan Doing Environmental Protection Technology Co., Ltd, the subsidiary company of Doing Holdings Co., LTD, is a comprehensive environmental equipment manufacturer integrating technological design, research and development, machine production, sales and after-sales service in one.
Our main business: solid waste and hazardous waste treatment equipments, pyrolysis plant and related environmental protection equipments including waste tire pyrolysis plant, waste plastic pyrolysis plant, waste oil sludge pyrolysis plant, used motor oil refinery plant with the tail gas cleaning, flue gas desulfurization and purification equipments, etc. Now, our products have sold well in more than 60 countries and regions around the world, winning great praise and trust of our customers all over the world!
After-Sales of scrap tyres to oil production plant
1. Delivery time
It will be 25-35 days after we receive the deposit. The specific time depends on which country the customer is.
2. Warranty
The warranty period for pyrolysis reactor and other parts except spare parts is 12 month. Note: The problem caused by wrong operation of workers shall not be responsible by our company.
3. Installation and training
Our company will send engineers for each set scrap tyres to oil production plant to guiding your installation, testing the machine and training your workers. But buyer should take charge of technician round trip air tickets and accommodation during installation.
Technical parameter of scrap tyres to oil production plant
Technical parameter of scrap tyres to oil production plant

No.

Items

Contents

1

Equipment type

DY-1-6

DY-1-10

DY-1-12

2

Raw material

Waste plastic

Waste plastic

Waste plastic

3

Structural form

Horizontal rotation

Horizontal rotation

Horizontal rotation

4

24-hour Capacity

6 ton

8 ton

10 ton

5

Oil yield

2.7-3.3ton

3.6 -4.4ton

4.5 -5.5ton

6

Operating pressure

Normal

Normal

Normal

7

Material of pyrolysis Reactor

Q245R

Q245R

Q245R

8

Thickness of pyrolysis Reactor

16mm

16mm

16mm

9

Rotate speed of pyrolysis Reactor

0.4turn/minute

0.4turn/minute

0.4turn/minute

10

Total power

19KW

19KW

19KW

11

Mode of cooling

Water cooling

Water cooling

Water cooling

12

Cooling area of condenser

100sqm

100sqm

100sqm

13

Kind of transmission

Internal gear drive

Internal gear drive

Internal gear drive

14

Noise dB(A)

≤85

≤85

≤85

15

Size of Reactor(D×L)

2200×6000

2600×6600

2800×6600

16

Working form

Intermittent operation

Intermittent operation

Intermittent operation

17

Delivery time

20days

20days

20days

18

Weight

27T

32T

35T
Prepared for scrap tyres to oil production plant
Prepared for scrap tyres to oil production plant
No.
Item
Consumption
1
Coal(for choice)
500kg/day
2
Wood(for choice)
800kg/day
3
Natural gas(for choice)
100-150kg/day
4
Oil(for choice)
300-350kg/day
5
Electricity
244kwh/day
6
Water(recycled)
60㎥ /month
7
Total power
19kw
8
Land area
35m*15m
The application of final production-----FUEL OIL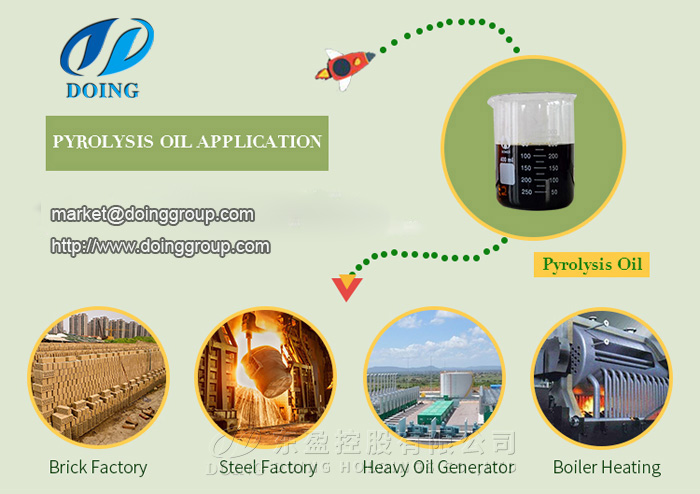 Fuel oil application
Fuel oil from waste tyre are used in below industries
A. Power plant factory
B. Glass factory
C. Cement factory
D. Ceramic fatory
E. Aluminum factory
F. Boiler factory
G. Central heating factory
H. Painting factory
The application of final production-----CARBON BLACK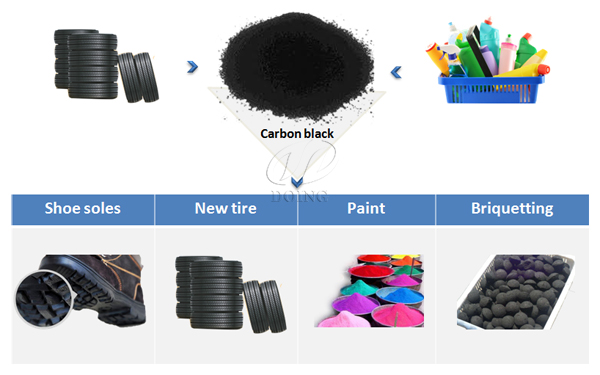 Carbon black application
Carbon black from waste tyre are used in below industries
A. Electric cable jacketing
B. Conveyor ban
C. Hose and doormat
D. Black nylon bag
E. Rubber additive
F. Automatic spare parts
G. Heat isolation
H. Black colorant in rubber materials
I. Plastic pipes
J. Industries rubber products
K. Fire fighting