For disposing waste oil, the most common approach is just discharge it in the open land, which contaminates air, soil, water, etc. a lot. However, waste oil itself is a kind of recyclable resource, as long as it is treated in the right way, which can turn waste into treasure. While waste oil distillation machine is the best recommended approach of disposal of waste oil.
The waste oil distillation machine employs a distillation process to separate different components of the waste oil based on their boiling points, which aims to recover useful products from waste oil environmentally friendly.
General working process:
Put the waste oil into the waste oil distillation machine and heat the reactor to a certain temperature, then the waste oil will be vaporized; after the oil gas goes through the cooling system and catalyst system, we can obtain the liquid diesel.
Two types of waste oil distillation machine provided by DOING
Type one: The common waste oil distillation machine
This type adopts acid and alkali as the catalysts, which needs to add them after the oil gas goes through the cooling system and cooled into liquid oil. For some regions, the acid and alkali catalysts are easy to obtain, which can reduce operation costs for the customer, who are more preferable of this type.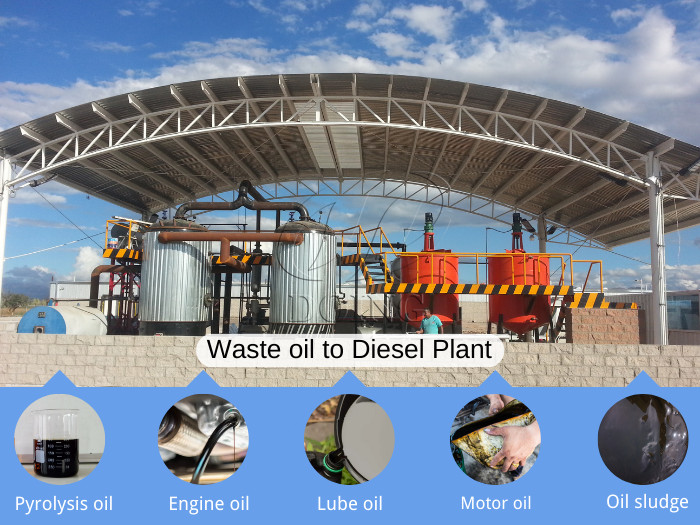 The common waste oil distillation machine for sale

Type two: The solid catalyst waste oil distillation machine
This type adopts the solid catalysts directly, which puts the catalyst tower on the reactor directly. So after going through the cooling system, we can obtain the diesel directly. The solid catalyst type is researched by the DOING engineer team independently, which has higher efficiency and safety.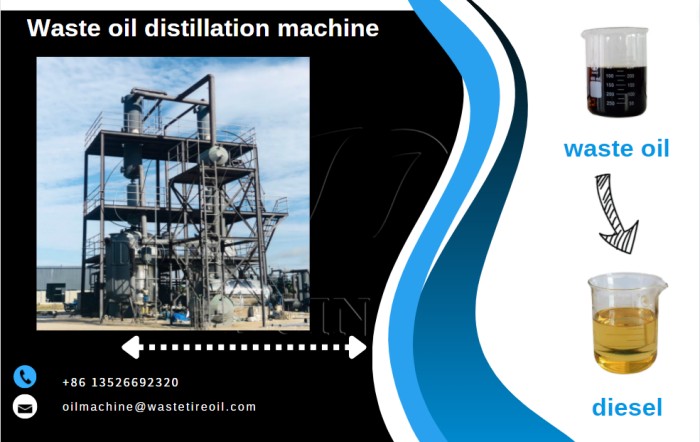 The solid catalyst waste oil distillation machine for sale

Although these two waste oil distillation machines have various advantages and designs, we can obtain the same quality diesel with the high oil yield between 75% and 85%. And in addition to the diesel, we can also obtain about 10% asphalt and 5% combustible gas, which all have multiple applications:
1)Diesel
Although the obtained diesel is non-standard diesel, it can be used in tractors, trailers, heavy trucks, trucks such as logistics trucks, as well as in mining machinery and some generators, and ships can use this diesel as fuel directly.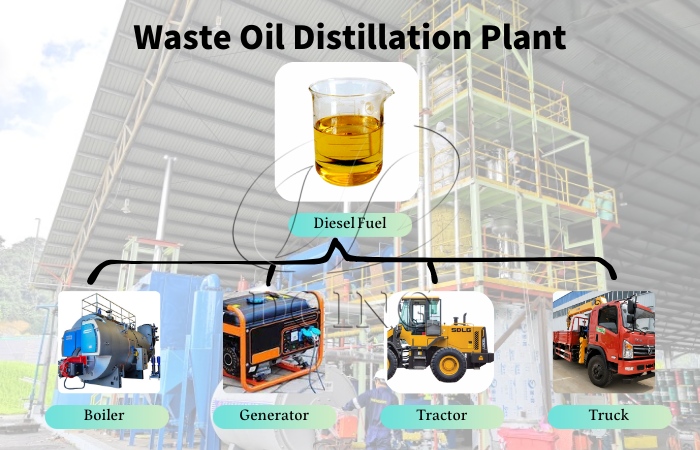 Multiple applications of obtained diesel

2)Asphalt and Combustible gas
Asphalt is no different from ordinary asphalt and can be used for paving, etc. The combustible gas can be used as heating fuels.
And apart from the waste oil, our waste oil distillation machine can also recycle crude oil, pyrolysis oil, waste motor engine oil, etc. to diesel, which are hot sales in Ghana, Malaysia, Colombia, Mexico, Indonesia, India, Pakistan, Brazil, etc.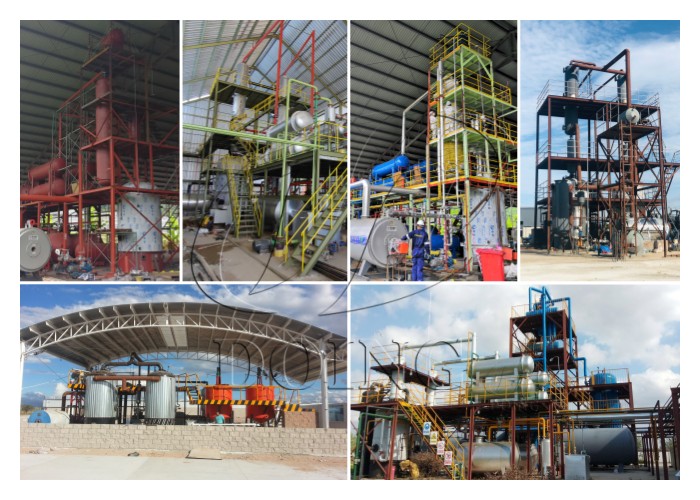 Project cases of DOING waste oil distillation machines

DOING, the top manufacturer of waste oil distillation machines in China, has cooperated with many customers. If you also want to recycle waste oil or other oils, or want to learn more information about our successful project cases, welcome to contact us!